Back to News & Events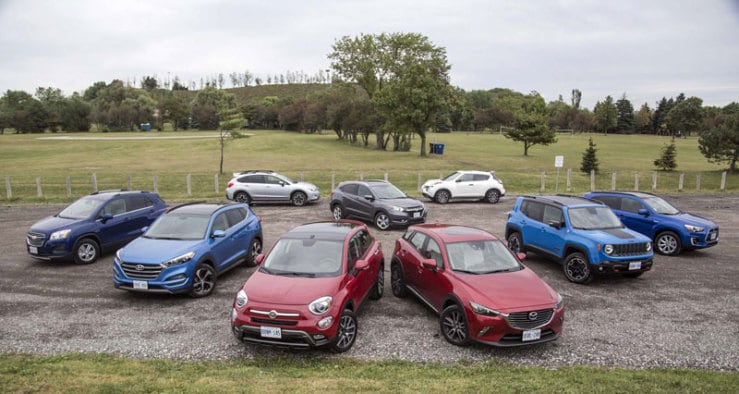 Chevrolet Trax vs Fiat 500x vs Honda HR-V vs Hyundai Tucson vs Jeep Renegade vs Mazda CX-3 vs Mitsubishi RVR vs Nissan Juke vs Subaru XV Crosstrek
Review by Jacob Black, Peter Bleakney, Ronnie Fung, Lesley Wimbush, Jeff Wilson, Jonathan Yarkony
Photos by Ronnie Fung and Jeff Wilson
Introduction
Everything in the automotive kingdom these days is getting bigger it seems. Cars and SUVs especially are growing, expanding and bloating like so many Christmas revelers. The bloat has become so substantial that an entire new size category has opened up at the bottom: one for subcompact SUVs and crossovers.
In the last 12 months the segment has doubled in size; where before there were five or six that could be classed within, now there are ten.
The divisive but fun-to-drive Nissan Juke was arguably the first true subcompact SUV blazing a trail here in Canada, with the popular Mitsubishi RVR and often underestimated Chevrolet Trax and its Buick Encore twin joining the fray. And then along came the Subaru XV Crosstrek - which is a tall wagon, but it's quite tall and comes to the party with Subaru's vaunted AWD system.
Yet this quartet played in pretty much its own niche for the last few years - with the Mini Countryman also part of the party depending on who you spoke to.
Mismatched in some areas, the oddballs found comfort in one another and, more importantly, they sold half well. Better than half, actually.
It wasn't long before other manufacturers saw an opportunity for a city-size SUV for those who like the height and the style, plus the easy ingress and egress without the bulk.
Since the bloom in offerings, the segment has grown. Year-to-date in 2015 mini-SUVs are up almost 40 percent - 21,908 units were sold by the end of August in 2014, while 30,556 have gone out the door this year according to GoodCarBadCar.net.
We've got them all here with only two exceptions: The Buick Encore, which wasn't available and is a pricier clone of the Trax, and the Mini Countryman - which was likewise unavailable. One could make a case for the Kia Soul, but lacking all-wheel drive in any form kept it out of this crossover comparison.
The Subaru XV Crosstrek is our reigning champion from the last time we tested these mini-crossovers, but there's a flood of new competition now and a sharpened focus on the segment. The Crosstrek, meanwhile, remains about the same. Still, it and the Nissan Juke are the only two of the existing players that have gained sales this year, up 18 and 15 percent respectively.
Enter: The newbies.
The critically acclaimed 2016 Mazda CX-3 is our long-term test vehicle at the moment. It's a looker, but can its focus on driving dynamics overcome its diminutive stature?
The 2016 Honda HR-V is brand new too, and packs many of the innovative, fun, downright brilliant packaging tricks from the Fit.
The 2016 Hyundai Tucson is fighting down a weight range here, having grown even more for the new model. Its price has come up too.
Joining Hyundai in the near-$40,000 range is the Jeep Renegade - we landed the Trailhawk trim, the toughest and most capable mini-SUV money can buy. But is "cool factor" and "toughness" enough in this market?
Jeep's FCA cousin, the Fiat 500x, popped its little blue pill and sauntered down to the ring all prepped and ready to box. The little Italian turned on the charm, but it takes more than a wink and a smile to win over our testers… or does it?
Ninth Place: 2015 Jeep Renegade, Lesley Wimbush
Eighth Place: 2016 Fiat 500X, Peter Bleakney
Seventh place: 2016 Mitsubishi RVR, Jonathan Yarkony
Sixth place: 2015 Nissan Juke, Ronnie Fung
Fifth Place: 2015 Chevrolet Trax, Jeff Wilson
Fourth Place: 2016 Hyundai Tucson, Peter Bleakney
Third place: 2016 Mazda CX-3, Jacob Black
Second Place: 2016 Honda HR-V, Jonathan Yarkony
First place: 2015 Subaru XV Crosstrek, Lesley Wimbush
I have to admit, this one surprised me. My first impression was of a rather nondescript, boxy sort of wagon. But it's the kind of vehicle that wins you over - one day you find yourself thinking, "You know, that doesn't look bad at all." Jonathan even went so far as to compliment its looks: "It doesn't hurt that it is a tough-looking little rig, and has nearly the best ground clearance and rugged surface abilities, which we were not even factors in this comparison."
The interior environment is rather typical of most Subaru; rugged and functional, but short on luxury and refinement. This is reflected in our scoresheet, with only the RVR coming in lower.
Still, it's a big step up over Subies of old. Offsetting the abundance of hard plastic, this
XV Crosstrek
has leather-trimmed seats, a seven-inch touchscreen multimedia system, thicker acoustic windshield glass and the impressive Eyesight collision avoidance and adaptive cruise control system. Against others with nicer materials and more feature content, the Subie was mid-pack. Strangely enough, it was the only one without Navigation, which is an optional add-on.
Like most of us, I'm not a fan of most continuously variable transmission systems. But this one is particularly well-sorted - it's exceptionally well-programmed to emulate a conventional six-speed automatic transmission, displays none of the typical CVT moan and groan, and there are steering wheel-mounted paddle shifters to pacify the driving enthusiasts. Its 148-hp 2.0L four-cylinder boxer engine, with 145 lb-ft of torque to match, was not overtaxed here even with 1,500 kg to carry around.
Of the group, the Crosstrek was probably the equal of the CX-3 in terms of car-like handling, but felt the most sure footed thanks to its much-lauded symmetrical AWD. Visibility fore and aft is excellent and helped account for the Crosstrek's top marks for parking. Our notes were filled with comments like this from Jeff, "Subaru's legendary all-wheel-drive, and the car's more wagon-like profile give it a livelier persona than its peers when being hustled around on ramps. If you've got to have a CVT transmission, this is the one to have." And Peter reaffirmed its all-season excellence: "Having driven this car in winter I know what a terrific AWD system and chassis it has."
Subaru's "Eyesight" system is pretty damned impressive, too, especially when you consider that for $1,500, you're getting technology similar to the state-of-the-art systems available in European luxury cars charging thousands more. Easy to use, it makes dreary stop-and-go commuting a lot more bearable - and safe. Speaking of safe, do we need to remind you that the Crosstrek, like every other Subaru, earns a TSP+ from the IIHS?
The Crosstrek's wagon-like shape is a TARDIS-like illusion; larger on the inside than it appears on the outside. Its third place ranking for cargo space surprised us all - only the Fit-based HR-V and the positively voluminous new Tucson came higher. Our cargo test notes: "With the third-highest cargo volume on paper at 632L the Crosstrek naturally was going to impress. Indeed, the depth of the back cavern allowed the pram in behind the bag. The bag was a little long for the narrow tailgate opening, and the non-storable tonneau cover hampered access a little, but still the Crosstrek took it all with a minimum of fuss."
Economy is important in most segments, but it's a particularly crucial factor for customers of subcompact crossovers (and subcompact anything for that matter). Here, the Crosstrek shone, with one of the lowest sticker prices in the group and the best fuel economy numbers of them all, an 8.8 L/100 km on test day which came closest to its official 8.1 L/100 km combined rating.
A very likeable and sensible vehicle, the Crosstrek offers great value and its high scores in some areas more than make up for middling rankings in others. I'll let Jonathan wax on for a bit about its overall competence: "This is the return of the doing-all-things-well champ. The XV Crosstrek has few weaknesses, except some tolerably mediocre interior materials. Seating is accommodating if not spectacular, and plenty spacious for its small footprint, with good, simple cargo space. It isn't fast, but it is quick off the line, and the CVT here is excellent, returning spectacular efficiency. While I've always found the ride a bit jittery, in this company it felt fair and composed and was an easy and enjoyable car to drive. It doesn't hurt that it is a tough-looking little rig, and has nearly the best ground clearance and rugged surface abilities, which we were not even factors in this comparison."
Pricing: 2015 Subaru XV Crosstrek Sport Package with Technology
Base Price (Touring): $24,995
Base Price (Sport Package with Technology):$29,495
Options: None
Destination: $1,650
A/C Tax: $100
Price as Tested: $31,245
Warranty:
3 years/60,000 km; 5 years/100,000 km powertrain; 5 years/unlimited distance corrosion perforation; 3 years/unlimited distance roadside assistance
Date Posted: October 5, 2015